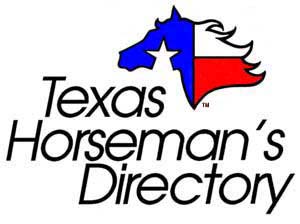 ---
National Breed
Associations & Registries
Welcome to the
Texas Horseman's Directory's
National Breed Associations & Registries page.
These are the nation-wide organizations that govern
the activities and registration of horse breeds
in the United States of America.

If you have new information: change of address,
new telephone number, new email, new website, etc.
or if you know of or have
a non-profit national breed organization
that is not listed, please notify
the Texas Horseman's Directory,
P. O. Box 625,
Cypress, TX 77410
or send the information by
e-mail: directory@texhorseman.com.
For specifically Texas organizations see
Texas State & Local Horse Clubs.
This listing is FREE to all non-profit
equestrain organizations and clubs.
---
Select your search by the First letter.

A/ B/ C/ D/ E/ F/ G/ H/ I/ J/ K/
L/ M/ N/ O/ P/ Q/ R/ S/ T/ U/ V/ W/ XYZ
---
•Akhal-Teke Association of America
P.O. Box 1635, Rolla, MO 65402
573-426-5207
Email: aatasecretary@wavecomputers.net
Website: www.akhal-teke.org

American Indian Horse Registry, Inc.
Rancho San Francisco
9028 State Park Road, Lockhart, TX 78644
512-398-6642
Website: www.indianhorse.com

American Appendix Horse Association
P.O. Box 1156, Salmon, ID 83467
(208) 756-1394
Email: register@americanappendix.com
Website: www.americanappendix.com

International Andalusian &
Lusitano Horse Association
205-995-8900
Email: info@ialha.org
Website: ialha.org
FACEBOOK

Appaloosa Horse Club, Inc.
2720 West Pullman Road, Moscow, ID 83843
208-882-5578; Fax: 208-882-8150
Website: www.appaloosa.com

Appaloosa Sport Horse Association
1550 Opelika Road, Suite 6/337, Auburn, AL 36830
Phone: (334)750-4052; Fax (334)501-7467
Email: wrhodes@apsha.org
Website: www.apsha.org



International Colored Appaloosa Association, Inc.
P. O. Box 99, Shipshewana, IN 46565
Phone/fax: 574-825-3331
Email: ICAA@aol.com
Website: www.icaainc.com/



Arabian Horse Association (AHA)
10805 E. Bethany Drive, Aurora, CO 80014-2605
303- 696-4500; Fax: 303-696-4599
Email: info@ArabianHorses.org
Website: www.ArabianHorses.org/

Arabian Horse Association Region IX
Website: www.region9aha.org



World Arabian Horse Organization
Katrina Murray, Executive Secretary
Newbarn Farmhouse, Forthampton
Gloucestershire GL19 4QD, United Kingdom
Tel: +44 (0) 1684 274455
Fax: +44 (0) 1684 274422
Email: waho@compuserve.com
Website: www.waho.org/

Arabian Jockey Club
10805 E Bethany Drive, Aurora, CO 80014
800-458-4283; Fax: 303-696-4599
Email: ajc@arabianracing.org
Website: www.arabianracing.org

American Azteca Horse International Association
P.O. Box 1577, Rapid City, SD 57709
605-342-2322
Website: www.americanazteca.com/


---
---

•American Bashkir Curly Registry
P. O. Box 151029, Ely, NV 89315
775-289-4999; Fax: 775-289-8579
Email: Secretary@ABCRegistry.org
Website: www.ABCRegistry.org

Belgian Warmblood Breeding Association,
North American District
41 York Drive, St. Louis, MO 63144
(314) 989-1198 or 502) 535-6787 or fax (502) 535-4412
Email: cmfrank@qx.ne
Website: www.belgianwarmblood.com

American Buckskin Registry Association, Inc.
1141 Hartnell Avenue, Redding, CA 96002
530-223-1420
Email: Georgijones@aol.com
Website: www.americanbuckskin.org

International Buckskin Horse Association
Lon Allen, President
P. O. Box 268, Shelby, IN 46377-0268
Phone/fax: (219) 552-1013
Email: ibha@netnitco.net
Website: www.ibha.net


---

•World Conformation Horse Association
230 Causey Road Columbia, LA 71418
(682) 235-2300
Email: falconranch@earthlink.net
Website: www.conformationhorse.com


---

•Chincoteague Pony Association
P.O. Box 407, Chincoteague, VA 23336-0407
757-336-6917
Email: chincoponyassoc@esva.net
Website: www.chincoteaguechamber.com/map-assn.html



The National Chicoteague Pony Association
Gale Park Frederick
2595 Jenson Road, Bellingham, WA 98226
360-671-8338
Email: GFreder426@aol.com
Website: www.pony-chincoteague.com

Cleveland Bay Horse Society of North America
P. O. Box 483, Goshen, NH 03752
401-539-8272 or 603-863-5193
Email: cbhsna@aol.com
Website: www.clevelandbay.org

Clydesdale Breeders of the U.S.A.
17346 Kelley Road, Pecatonica, IL. 61063
   815-247-8780; Fax: 815-247-8337
Email:secretary@clydesusa.com
Website: www.clydesusa.com/

Colorado Ranger Horse Association, Inc.
Laurel Kosior, Executive Secretary
RD 1, Box 1290, Wampum, PA 16157
Phone/fax: 724-535-4841
Email: crha@lcix.net
Website: www.coloradoranger.com/

American Connemara Pony Society
P.O. Box 13385, Fairlawn, OH 44334
Phone: 330-664-0871
Region VII,
Arkansas, Kansas, Louisiana, Missouri, Texas, Oklahoma
Website: www.acps.org

International Curly Horse Organization,
North American Curly Horse Registry
775-269-3050; Fax: 775-259-8323
Email: office@curlyhorses.org
Website: www.CurlyHorses.org/


---
---

•The Dales Pony Association North America
P. O. Box 585, New Portland, ME 04954
Canadian Address:
P.O. Box 733. Walkerton, ON N0G 2V0
705-541-9106
Email: info@dalesponyassoc.com
Website: www.dalesponyassoc.com



The Dales Pony Society of America, Inc.
32 Welsh Road, Lebanon, NJ 08833
908-236-6087
Email: info@dalesponies.com
Website: www.dalesponies.com

Dartmoor Pony Registry of America
Treasurer/Secretary/Newsleter: Ned Frybarger
295 Upper Ridgeview Road, Columbus, NC 28722
828-894-5672
Email: lovelongears@hotmail.com
Website: www.dartmoorpony.com/DPRA/Welcome.html

The American Donkey & Mule Society, Inc.
P. O. Box 1210, Lewisville TX 75067
(972) 219-0781; Fax: (972) 219-0781
Email: adms@juno.com
Website: www.lovelongears.com/

Dutch Warmblood Studbook of North America (NA/WPN)
P. O. Box O, Sutherlin, OR 97479
Physical Adress: 609 E. Central, Sutherlin, OR 97479
541-459-3232; Fax: 541-459-2967
Email: office@kwpn-na.org
Website: kwpn-na.org


---
---

•International Friesian
Show Horse Association
Recognized Affiliate of the
Email: ifsha@friesianshowhorse.com
Website: IFSHA

Friesian Horse Association of North America
Executive Director: Jason Tice
4037 Iron Works Parkway, Suite 160,
Lexington, KY 40511-8483
859-455-7430; Fax: 859-455-7457
Email: jtice@fhana.com
Website: www.fhana.com

The Friesian Horse Society, Inc.
17670 Pioneer Trail, Plattsmouth, NE 68048
402-298-7FHS (7347); Fax: 402-298-7569
Email: info@friesianhorsesociety.com
Website: www.friesianhorsesociety.com/

Friesian Sporthorse Association
P. O. Box 283, Seville, FL 32190
FSA Office: 386-749-0097; Registrar: 386-717-0852
Email: FSAFriesianSport@aol.com
Website: www.friesiansporthorseassociation.com/index.html


---
---

•Gotland Russ Association of North America
811 Carpenter Hill Road, Medford, OR 97501
541-535-6756
Email: GoGotlands@aol.com
Website: www.gotlandponies.org/Welcome.html



American Gypsy Horse Breed Association
Membership: Michelle Nelson-Pawlowski
c/o AGHBA, 10437 Alta Mesa Road, Wilton, CA 95693
Email: Membership@aghba.org
Website: www.aghba.org/

Gypsy Vanner Horse Society
Executive Director, P. O. Box 7090, Monroe, LA 71203
888-520-9777; Fax: 940-234-1300
Email: gvbandit04@yahoo.com
Registrar, P. O. Box 65, Waynesfield, OH 45896
888-520-9777
Email: info@gypsyvannerhorsesociety.org
Website: www.gypsyvannerhorsesociety.org/


---
---

•American Haflinger Registry
Ruth Schwab - Managing Director
1686 East Waterloo Road
Akron, OH 44306-4103
330-784-0000
Fax: 330-784-9843
Email: ahaflinger@sbcglobal.net
Website: www.haflingerhorse.com/

American Hackney Horse Society
4059 Iron Works Parkway A-3
Lexington, KY 40511-8462
Office: 859-255-8694
Fax: 859-255-0177
Email: info@hackneysociety.com
Website: www.hackneysociety.com


American Hanoverian Society, Inc.
4067 Iron Works Parkway, Suite 1, Lexington, KY 40511
859-255-4141; Fax: 859-255-8467
Email: AHSoffice@aol.com
Website: www.hanoverian.org

American Holsteiner Horse Association
Patricia A. Donohue, Registrar
222 E. Main Street, Suite 1, Georgetown, KY 40324
502-863-4239; Fax: 502-868-0722
Email: ahhambr@bellsouth.net
Website: www.holsteiner.com/

Hungarian Horse Association of America
Registrar: Linda Rudolphi
281 Ruby Road, Noble, IL 62868
Email: wineglassfarm1@yahoo.com
Website: www.hungarianhorses.org


---
---

•Iberian Warmblood Registry International, LLC
Celebrating Iberian Horses Of Andalusian & Lusitano Ancestry
P. O. Box 664, Onalaska, WA 98570-9620
(360) 520-0735
Email: Registry@IberianWarmblood.com
Website: www.iberianwarmblood.com/

Icelandic Horse Society of Great Britain
Chairman: Ian Pugh, ian@oldhills.demon.co.uk
Website: www.ihsgb.co.uk/

North American Icelandic Horse Breeders Association
P.O. Box 524, Grapeview, WA 98546
360-275-7542
Email: info@icelandichorsebreeders.org
Website: www.icelandichorsebreeders.org/

United States Icelandic Horse Congress
Karyn Cantella, USIHC Registry
P. O. Box 1724, Santa Ynez, CA 93460
805-688-6355
Email: icecong@aol.com
Website: www.icelandics.org

American Indian Horse Registry
Website: www.indianhorse.com

Irish Draught Horse Society of North America
Registrar and Member Services Coordinator
4037 Iron Works Parkway, #160, Lexington, KY 40511
859-455-8090; Fax: 858-761-0264
Email: idhsna@hotmail.com
Website: www.irishdraught.com/


---
---

•Kentucky Mountain Saddle Horse Association
P.O. Box 1405, Georgetown, KY 40324
502-863-3545; Fax: 502-863-3838
Email: Office@kmsha.com
Website: www.kmsha.com


---
---

Kiger (Mustang) Horse Association & Registry
Georgetown, Texas
E-mail: kigerhorse@gmail.com
Website: kigerhorse.org/
FACEBOOK


---
---

•Lipizzan Association of North America
P. O. Box 1133, Anderson, IN 46015
765-215-6798; Fax: 765-641-1208
Email: sandy@lipizza.org
Website: www.lipizzan.org


---
---

•American Miniature Horse Association, Inc.
5601 South I Hwy 35 W., Alvarado, TX 76009
817-783-5600; Fax: 817-783-6403
Email: information@amha.org
Website: www.amha.com/

American Miniature Horse Registry
81 B Queenwood Road, Morton, IL 61550
309-263-4044; Fax: 309-263-5113
Email: info@shetlandminiature.com
Website: www.shetlandminiature.com/

International American Miniature Horse Alliance
13449 F.M. 1764, Santa Fe, Texas 77510
Phone: 409-316-2045
Email: information@iamha.net
Website: www.iamha.net/

World Class Miniature Horse Registry
12009 Stewartsville Road, Vinton, VA 24179
Phone/fax: 540-890-0856
Website: www.wcmhr.com/

Missouri Fox Trotting Horse Breed Association, Inc.
Suzanne Sanders
P. O. Box 1027, Ava, MO 65608
417-683-2468; Fax: 417-683-6144
Email: foxtrot@goin.missouri.org
Website: www.mfthba.com/

International Morab Breeders Association
Linda Konichek
S. 101 W. 34628 Hwy. 99, Eagle, WI 53119-1857
414-594-3667: Fax: 414-594-5136
Email: imba@morab.com
Website: www.morab.com

Morab Horse Association and Register
For more info see: Purebred Morab Horse Association
Website: www.puremorab.com/

Purebred Morab Horse Association, Inc. / Registry
W2802 Emons Road
Appleton, WI 54915
920/687-0188; Fax: 920/687-1818
Email: pmha@puremorab.com
Website: www.puremorab.com

American Morgan Horse Association, Inc.
P. O. Box 960, Shelburne, VT 05482-0960
802-985-4944; Fax: 802-985-8897
Email: info@morganhorse.com
Website: http://www.morganhorse.com

Rocky Mountain Horse Association
P. O. Box 129, Mt. Olivet, KY 41064
  606-724-2354; Fax 606-724-2153
Email: information@rmhorse.com
Website: www.rmhorse.com/

United Mountain Horse, Inc./
American Gaited Mountain Horse
Rocky Mountain Horses, Kentucky Mountain Horses,
Gaited Mountain Horses
860 Kiddville Road, Winchester, KY 40391
859-842-0270
Email: vanessa@unitedmountainhorse.org
Website: www.unitedmountainhorse.org/


---
---

American Mustang & Burro Association
George W. Berrier, Jr.
P.O. Box 608, Greenwood, DE 19950
Website: www.ambainc.net/?page=10

American Wild Horse Preservation
Website: AWHP

North American Mustang Association and Registry
Ellen Nelson
P. O. Box 850906, Mesquite, TX 75185-0906
Email: namarmustangs@yahoo.com
Website: www.namarmustangs.com/

International Society for the Protection of Mustangs and Burros
Website: www.ispmb.org/

---
---

•National Show Horse Registry
Robert Peebles
10368 Bluegrass Parkway, Louisville, KY 40299
502-266-5100; Fax: 502-266-5806
Email: nshowhorse@aol.com
Website: www.nshregistry.org/

Norwegian Fjord Horse Registry
1203 Appian Drive, Webster, NY 14580
585-872-4114; Fax: 585-787-0497
Email: registrar@nfhr.com
Website: www.nfhr.com/


---
---

•Oldenburg Registry of North America &
International Sporthorse Registry
517 DeKalb Avenue, Sycamore, IL 60178
815-899-7803; Fax: 815-899-7823
Email: ISREG@aol.com
Website: www.isroldenburg.org/


---
---

•American Paint Horse Association
P. O. Box 961023, Fort Worth, TX 76161-0023
817-834-APHA 2742; Fax: 817-834-3152
Email: askapha@apha.com
Website: http://www.apha.com/

*American Junior Paint Horse Association
Patty Reiber, Youth Coordinator
P. O. Box 961023, Fort Worth, TX 76161-0023
817-834-APHA; Fax: 817-834-3152
Email: preiber@apha.com
Website: http://www.apha.com/

Palomino Horse Association, Inc.
Route 1. Box 125, Nelson, MO 65347
660-859-2064; 660-859-2058
Contact: Patricia Rebuck, palominorebuck@yahoo.com
Website: www.palominohorseassoc.com

Palomino Horse Breeders of America
Cindy Chilton
15253 E. Skelly Drive, Tulsa, OK 74116-2637
918-438-1234; Fax: 918-438-1232
Email: yellahrses@palominohba.com
Website: www.palominohba.com/

Palomino Ponies of America
Grace DeSiervo, Secretary
160 Warbasse Junction Road, Lafayette, NJ 07848-9408
(201) 579-2075

American Part-Blooded Horse Registry
Betty Seymour, Registrar
12294 SE 104th Ct., Portland, OR 97086
503-698-8615
Website: www.americanpartbloodedhorseregistry.com

Paso Fino Horse Association, Inc.
C. J. Marcello, Jr., Executive Director
101 North Collins Street, Plant City, FL 33566
813-719-7777; Fax: 813-719-7872
RIck Meyer, President
Email: rick.meyer@worldnet.att.net
Website: www.pasofino.org

Percheron Horse Association of America
Alex T. Christian, Secretary/Treasurer
P. O. Box 141, 10330 Quarker Road, Fredericktown, OH 43019
740-694-3602; Fax: 740-694-3604
Email: percheronhorse@percheronhorse.org
Website: www.percheronhorse.org/

Performance Horse Registry (PHR)
4047 Iron Works Parkway,
Lexington, KY 40511-8483
859-258-2472; Fax: 859-231-6662
Email: phr@phr.org
Website: www.phr.com/

North American Peruvian Horse Association
Email: info@NAPHA.net
Website: www.napha.net

Pinto Arabian & International-Pintabian Horses
Lmpintoarabian@aol.com
www.pintoarabians.com

International Spotted Horse & Pintaloosa Registry
ishrppa@aol.com or pintaloosa53@aol.com
www.pintaloosahorseregistry.com

Pinto Horse Association of America, Inc.
Darrell Bilke, Executive Vice President
7330 NW 23rd St., Bethany, OK 73008
(405) 491-0111; Fax (405) 787-0773
Email: membership@pinto.org
Website: pinto.org/

National Pinto Horse Registry
2812 Velarde Drive, Thousand Oaks, CA 91360
805-241-5533; Fax: 805-241-5533
Email: pintoregistry@msn.com
Website: www.pintohorseregistry.com/

Pony of the Americas Club, Inc.
5240 Elmwood Avenue, Indianapolis, IN 46203
317-788-0107; Fax: 317-788-8974
Email: poac@iquest.net
Website: www.poac.org


---
---

•American Quarter Horse Association
Mailing Address: P. O. Box 200, Amarillo, TX 79168
Overnight Delivery: 1600 Quarter Horse Dr. Amarillo, Tx 79104
806-376-4811; Fax: 806-372-6806
Website: http://www.aqha.com

Foundation Quarter Horse Registry
P. O. Box 1221, Mena, AR 71953
479-923-4768
Website: www.FQHA.com

  National Foundation Quarter Horse Association
P. O. Box P, Joseph, OR 97846
541-426-4403; Fax: 541-426-4206
Email: NFQHA@nfqha.net
Website: www.nfqha.com

International Quarter Pony Association
P.O. Box 230, Lyles, TN 37098
931-670-2009, 509-949-2488, 361-729-4456, 816-250-2351
Website: www.quarterponyassociation.com


---
---

•Racking Horse Breeders Association of America
67 Horse Center Road, Decatur, AL 35603
256-353-7225; 256-351-9242; Fax: 256-353-7266
Website: www.rackinghorse.com

•Rocky Mountain Horse Association
Website: RMH


---
---

•North American Saddle Mule Association
Email: nasma@masma.net
Website: www.nasma.us/

American Saddlebred Horse Association, Inc.
4093 Iron Works Pike, Lexington, KY 40511
859-259-2742; Fax: 859-259-1628
Email: saddlebred@asha.net
Website: www.asha.net/

North American Selle Francais Association, Inc.
P. O. Box 579, Waynesboro, Virginia 22980
540-932-9160; Fax: 540-932-9163
Email: sellefrancais@starpower.net
Website: www.sellefrancais.org

North American Shagya-Arabian Society
Gwynn Davis, Information Officer
9797 S. Rangeline Road, Clinton, IN 47842
765-665-3851
Email: NASS_Informational_Officer@Shagya.net
Website: www.shagya.net

Performance Shagya-Arabian Registry
Registrar: Linda Rudolphi
281 Ruby Road, Noble, IL 62868
Email: performanceshagyaregistry@gmail.com
Website: www.performanceshagyaregistry.org

American Shetland Pony Club
81 B Queenwood Road, Morton, IL 61550
309-263-4044; Fax: 309-263-5113
Email: info@shetlandminiature.com
Website: www.shetlandminiature.com/

American Shire Horse Association
Sharon McLin, Secretary
P.O. Box 408, Lake Delton, WI 53940
Office: 888-302-6643; Fax: 608-253-6204
E-mail: secretary@Shirehorse.org
Website: www.shirehorse.org/

North American Single-Footing Horse Association
4055 Villa Creek Road, Cayucos, CA 93430
805-995-1894
Email: contact@singlefootinghorse.com
Website: www.singlefootinghorse.com

Spanish-Barb Breeders Association
PO Box 1628, Silver City, NM 88062
Email: info@spanishbarb.com
Website: www.spanishbarb.com

Spanish Mustang Registry
Marye Ann Thompson
4970 S Kansas Settlement Road, Willcox, AZ 85643 520-384-2886
Email: MAT@vtc.net
Website: www.spanishmustang.org

Central Texas Sporthorse Breeders
Website: www.sporthorsebreeders.com

South Central Sporthorse Breeders Association
Mary Claeys-Smith, Treasurer - SCSBA
1908 FM 3048 Cleburne, TX 76031
Website: www.scsbreeders.com

International Sporthorse Registry &
Oldenburg Warmblood Registry
Website: http://www.isroldenburg.org/

International Sport Horses of Color
P. O. Box 294, Newcastle, CA 95658
916-645-6909
Email: info@shoc.org
Website: www.shoc.org/

International Spotted Horse Registry Association
P. O. Box 412, Anderson, MO 64831
Email: ishrppa@aol.com
866-201-3098 / 417-475-MARE (6273)
www.spottedhorseregistry.com
also see:
International Spotted Horse & Pintaloosa Registry
ishrppa@aol.com or pintaloosa53@aol.com
www.pintaloosahorseregistry.com

National Spotted Saddle Horse Association
P.O. Box 898, Murfreesboro, TN 37133-0898
615-890-2864
Email: nssha898@aol.com
Website: www.nssha.com

Spotted Saddle Horse Breeders & Exhibitors Association
P. O. Box 1046, Shelbyville, TN 37162
931-684-7496; Fax: 931-684-7215
Email: jprince@sshbea.org
Website: www.sshbea.org/

National Stock Horse Association
P. O. Box 1290, Strathmore, CA 93267
559-789-7007; FAX: 866-858-0957
Email: nationalstockhorse@gmail.com
Website: www.nationalstockhorse.com/

American Suffolk Horse Association
Mary Margaret M. Read, Secretary
4240 Goehring Road, Ledbetter, TX 78946-5004
Email: suffolks@cvctv.net
Website: www.suffolkpunch.com

Swedish Warmblood Association of North America
P.O. Box 788,
Socorro, NM 87801,
505-835-1318
Email: Office@swanaoffice.org
Website: www.swanaoffice.org


---
---

•The Jockey Club (Thoroughbred)
821 Corporate Drive, Lexington, KY 40503-2794
859-224-2700; Fax: 859-224-2710
Jockey Club Executive Offices:
40 East 52nd Street, New York, NY 10022
212-371-5970; Fax: 212-371-6123
Email: comments@jockeyclub.com
Website: www.jockeyclub.com/

Tiger Horse Association
1604 Fescue Circle, Huddleston, VA 24104
540-297-2276; fax: 540-297-7134
Email: information@tigerhorses.org
Website: www.tigerhorses.org



American Trakehner Association, Inc.
1514 West Church Street, Newark, OH 43055
740-344-1111; Fax: 740-344-3225
Email: atahorses@alltel.net
Website: www.americantrakehner.com/

International Miniature Trotting & Pacing Association
254-853-2806; Fax: 254-853-3744
Email: info@imtpa.com
Website: www.imtpa.com/

International Trotting & Pacing Association (Trottingbred)
60 Gulf Road, Gouverneur, NY 13642
Phone/Fax: 315-287-2294
Email: ldenesh@twcny.rr.com
Website: www.trottingbreds.homestead.com


United States Trotting Association (Standardbred)
Fred J. Noe, Executive Vice President
750 Michigan Avenue, Columbus, OH 43215-1191
614-224-2291; Fax: 614-224-4575
Email: fjn@ustrotting.com
Website: www.ustrotting.com


---
---

•The National Walking Horse Association
The Kentucky Horse Park
4059 Iron Works Parkway, Suite 4, Lexington, KY 40511
Phone: 859-252-NWHA (6942); FAX: 859-252-0640
Website: www.nwha.com
2012 Affiliate of United States Equestrian Federation

Tennessee Walking Horse Breeders & Exhibitors Association
P. O. Box 286, Lewisburg, TN 37091-0286
931-359-1574; Fax: 931-359-2539
Email: twhbea@twhbea.com
Website: www.twhbea.com/

Walking Horse Owners Association of America
Email: whoa@walkinghorseowners.com"
Website: http://www.walkinghorseowners.com/



American Warmblood Society
2 Buffalo Run Road, Center Ridge, AR 72027
501-893-2777; Fax: 501-893-2779
Email: aws@americanwarmblood.org
Website: www.americanwarmblood.org/

Celtic Warmblood Registry
World wide registry for Irish Draught and Irish Draught crosses
Cynthia Lurix, Registrar
P.O. Box 148,
Fulshear, TX 77441
Email: Registrar@CelticWarmblood.com
Website: www.celticwarmblood.com

Welsh Pony & Cob Society of America, Inc.
Official US Breed Registry
720 Green St. Stephens City, VA 22665
540-6868-7669
Email: info@welshpony.org
Website: www.wpcsa.org

Westfalen Horse Association
Membership & Dues, Barbara Putnam
2820 N. Liberty Road, NE, North Liberty, IA 52317
319-626-2516; Fax: 319-626-2493
Email: joandeere@aol.com
Website: www.westfalenhorse.org

Wild Horses of America Registry
See Mustangs


---
For information on:

National Show & Competition Organizations

Educational & Service Organizations

Texas State & Local Clubs and Organizations
(Texas representatives of national organizations)

How to Write Your Congressman

Texas U.S. Pony Clubs:
Red River Region & Rio Grande Region

Foxhunts in Texas

Therapeutic Riding Programs in Texas

Texas Horseman's Directory Listings,
stables, breeding farms, trainers and
other horse related businesses in Texas.

Texas Horseman's Directory
Online FREE Listing Information & Banners

Texas Horseman's Directory Classified Advertising,
it's FREE!

Or to return to:

Texas Horseman's Directory Home Page





TM: Texas Horseman's Directory
and the design of a horsehead
with the state flag of Texas,
is a registered trademark
or service mark of the
State of Texas, 2000.
Renewed 2020.


Last Page Update: 9 November, 2020