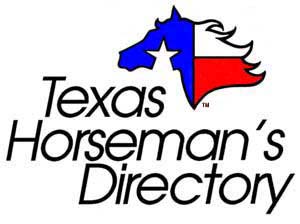 Texas State & Local Horse Clubs
and a few from Arkansas, Louisiana, New Mexico & Oklahoma

This information about
horse show and competitive organizations
is posted on the web for FREE!
In exchange, please give the
Texas Horseman's Directory
a link from your site using this URL:
http://www.texashorsemansdirectory.com/.

Corrections, updates or
new club information
is greatly appreciated.
Please notify the
Texas Horseman's Directory
directory@texhorseman.com
or write us at:
P. O. Box 625, Dept. W,
Cypress, TX 77410
Or Call: 281-373-9304.

Your assistance is greatly appreciated.

---
BREED ORGANIZATIONS:
AMERICAN INDIAN HORSE - ANDALUSIANS & LUSITANOS - APPALOOSAS
ARABIANS & HALF-ARABIANS
BUCKSKINS - DONKEYS & MULES - FOUNDATION QH - FRIESIANS
GAITED HORSES - HORSE OF AMERICA (SEE AIHR) - MINIATURES
MISSOURI FOX TROTTERS
MORABS - MORGANS - MUSTANGS
NATIONAL SHOW HORSE - PAINTS (APHA) - PALOMINOS
PASO FINO - PERUVIAN - PINTOS - POA - QUARTER HORSES (AQHA)
QUARTER PONY ASSOC. - ROCKY MOUNTAIN HORSES
SADDLE HORSES - SPANISH BARB
SPORT HORSE & WARMBLOOD - STOCK HORSE - THOROUGHBRED
WALKING HORSES - WELSH PONY

SPORT OR DISCIPLINE:
BARRELS & PLAYDAYS - CARRIAGE DRIVING - CUTTING - DRESSAGE
ENDURANCE - EQUESTRIAN/RIDING CLUBS & COWBOY CHURCHS
EVENTING (CROSS COUNTRY) - HUNTER/JUMPER
NATURAL HORSEMANSHIP - PONY CLUBS (USPC)
POLO & POLOCROSSE - RACING - REINING
RODEO - TEAM PENNING & ROPING
TRAILRIDING - VAULTING

EDUCATIONAL OR SERVICE GROUP:
4-H CLUBS - HORSE CLUBS & COUNCILS - RE-INACTMENT



---
AMERICAN INDIAN HORSE REGISTRY & HORSE OF AMERICAS:

American Indian Horse Registry (AIHR)
Website: www.indianhorse.com

ANDALUSIAN & LUSITANO ORGANIZATIONS:

Southwest Andalusian & Lusitano Horse Club (SWALHC)*
(Do you know what happened to this club?)

APPALOOSA ORGANIZATIONS:



Dal-Worth Appaloosa Horse Club
Website: dalworthaphc.com



East Texas Appaloosa Horse Club
Website: www.easttexasappaloosahorseclub.com



Gulf Coast Appaloosa Horse Club
Website: GCAPHC



Oklahoma Appaloosa Horse Club
Website: http://www.okappclub.com/

Sooner Appaloosa Horse Club
Website: www.sooner-aphc.com



South Texas Appaloosa Breeders
Seemd to have disappeared. Any info?



Texas Appaloosa Horse Club
Website: www.texasaphc.com

West Texas Appaloosa Horse Club
Seem to have disappeared. Any info?

ARABIAN & HALF ARABIAN ORGANIZATIONS:
AHA Region 9: Arkansas, Louisiana, Oklahoma, Texas

Alamo Arabian Horse Association (Texas)
Website: www.alamoarabians.com

American Foundation Arabian Horse Association (Texas)
Contact: Carrie Woolverton, honeycrek2@aol.com
Website: www.freewebs.com/americanfoundationarabianhorseassociation/

Arabian Horse Club of Texas
Website: www.arabianhorsecluboftexas.com

Arabian Riders and Breeders Society of Texas
Cheri Hoyt, Membership
Rt. 1, Box 423, Fresno, TX 77545
281-431-0779

Arabian Working Cow Horse Association (Texas)
Susan Hatfiled, Secretary
Email: susan@arabiancowhorse.org
Website: www.arabiancowhorse.org



Arkansas Arabian Horse Club, Inc.
Website: www.arkansasarabianhorseclub.com



Bluebonnet Arabian Horse Club (Texas)
Contact: Donna Knight, President
Email: arabnyt2@airmail.net
Sandy Killingsworth, Membership
972-617-5649
Email: rosehillfarm5649@att.net
Website: www.bluebonnetahc.org



Central Texas Arabian Horse Club
Ann Lang, Newsletter
6425 Burnet Lane, Austin, TX 78757
Email: info@ctahc.org
Website: www.ctahc.org



Crown of Texas Arabian Horse Club
Arlene Morley, Newsletter
350 Tara Road, Amarillo, TX 79118
806-622-4080
Email: arlenemo@msn.com
Website: pages.suddenlink.net/cotahc/

East Texas Arabian Horse Club
Contact: Sally Johnson
Email: borderaussie@consolidated.net

Five Points Arabian Horse Association (Texas)
Seems they have disappeared. Any info?

Green Country Arabian Horse Association (Oklahoma)
Velma Booth, Membership
918-324-5842
Email: vboodt@rural-isp.net
Website: www.gcaha.org

Gulf Coast Arabian Horse Club (Texas)
Julie Redding, President
281-375-5105
Email: juliet749@consolidated.net
Holly Strapulos, Membership
281-351-9089
Email: ghstrap@msn.com
Website: www.gulfcoastarabians.com/

Hill Country Arabian Horse Association (Texas)
Membership, Rebecca Compton
830-980-2216
Contact: Larry Shallcross, 830-980-5072
Email: larryshallcross@hotmail.com

Independence Arabian Horse Association (AHA Region 9)
Contact: Sky Gray, 713-461-8460 or 713-203-8204



Legacy Arabian Horse Club of Texas
Contact: Cynthia Moore
Email: fourmooreranch@embarqmail.com
Website: www.legacyarabianhorseclub.com/

Lone Star Arabian Horse Club (Texas)
See website for events and contact information:
lonestararabianhorseclub.com

Louisiana Arabian Horse Association
Website: www.laarabians.org/

North Texas Arabian Horse Club
Email: ntahc@earthlink.net
Website: ntahc.com/

Oklahoma Arabian Horse Club
Contact: Sheryl Mills
1318 Circle Glen Dr., Edmond, OK 73025
405-413-3077
Email: sdcmills@cox.net
Website: www.oklahomaarabians.org

Ozark Arabian Horse Club (Arkansas)
Jan Greeson, President, jangreeson@cox.net
Cathy Mayfield, Membership/Treasurer, cmayfield58@msn.com
Karen Hesse, Youth Director/ Newsletter, missouripassage@yahoo.com
(Thanks to Karen for this info, Ozark is back!)

Plains Arabian Horse Association (Texas)
Patty Sadler, President
11112 Milwaukee Avenue, Lubbock, TX 79424
806-794-2369
Email: premierpark@earthlink.net



Rio Grande Valley Arabian Horse Club (Texas)
No longer functional

South Central Arabs of Texas
Karlan Downing, MD, President
1280 CR 213, Halletsville, TX 77964
361-798-4122
Email: kdmd73@aol.com
Patricia Gerdes, Membership
940-382-8419

Spindletop Arabian Horse Club (Texas)
Cannot find a website

Star of Texas Arabian Horse Club
Virginia Cherry, President
362-358-2320
Email: cherrytopstables@yahoo.com
Website: www.stararabian.com

Texas Arabian Breeders Association (Arabian Racing)
P.O. Box 215, Forney, Texas 75126
972-564-9430; Fax 972-552-3613
Email: info@texasarabianbreeders.com
Website: www.texasarabianbreeders.com/

Texas Arabian Distance Riders Association (NATRA, AERC)
Charles Bass, President
Email: rebelcjb@aol.com
Eddie Spurgeon, Membership
Email: espurgeon@hotmail.com
Website: www.tadra.org/

BARRELS AND PLAYDAY ORGANIZATIONS:

National Barrel Horse Association - Cowboy Region -
New Mexico, Oklahoma & Texas
Website: www.nbha.com/


West Texas State Director: Shayna Gattis
Districts 2,5,7,8,9,12
254-592-6768
shaynab123@hotmail.com

TX00 Director: Melanie Covington
903-734-5217
nonstoprose@etex.net

Website of National Barrel Horse Association: www.nbha.com/

CENTRAL TEXAS BARREL RACING ASSOCIATION

eBARREL RACING

GULF COAST BARREL RACING ASSOCIATION

SOUTHEAST TEXAS BARREL RACING ASSOCIATION

TEXAS HILL COUNTRY BARREL RACING ASSOCIATION


BUCKSKIN HORSE ORGANIZATIONS:

Texas Buckskin Horse Association
476 Lake Creek Dr., New Braunfels, TX 78130
830-560-1594
Email: tbhatalk04@cs.com
Website: www.texasbuckskin.com/

CARRIAGE DRIVING ORGANIZATIONS:

TEXAS DRIVING CLUBS

Alamo Mini Harness Club
Mini Horses - Shetlands - Small Ponies - Donkeys
ADS Affiliate
San Antonio, Texas
Like us on Facebook

Brazos Valley Riding & (Carriage) Driving Club
Email: info@equinedriving.com
Website: equinedriving.com
Like us on Facebook

Houston Area Carriage Association
Website

Llano Estacado Driving Society
Lubbock, TX
Web Connection

North Texas Whip (Carriage Association)
Website: www.northtexaswhip.org
Email: webmaster@northtexaswhip.org

Plum Creek Carriage Society
(Anyone know them?)

Tejas Carriage Association
Contact: Alta Pederson
817-447-8077
Email: gpederdrum@aol.com
Website: www.tejascarriageassociation.org

Oklahoma Harness Horse Association
Website: Oklahoma Harnes Horse Association

COMBINED TRAINING - SEE EVENTING

COW HORSE ORGANIZATIONS:

Southwest Reined Cow Horse Association
Contact: Gay Lenz
11587 Hunt Lane, Guthrie, OK 73044
405-282-4006
Email: horseshowtack@cox.net
Website: SRCHA

CUTTING HORSE ORGANIZATIONS:

American Morgan Brothers Cutting Horse Association (ACHA)
jeff Smith Cowboy Collection Arena, Terrell, TX
936-829=0370

American North Central Texas Cutting Horse Association (ACHA)
Jacksboro, TX
Dee McLauchlin, Secretary, 817-832-3571

American North Texas Cutting Horse Association (ACHA)
Gainsville, TX
Gail Dittmeier/Bob Dittmeier, Sec./Treasurer, 214-351-6031

American Three & 1/2 Amigos Cutting Horse Association (ACHA)
JB Wells Arena, Gonzales, TX
Marcy Blnchard, 210-379-0450

Lufkin Cutting Horse Association (ACHA)
Lake Cattle Compoany Arena, Lufkin, TX
Linda Lane, Secretary, 979-830-0287, home; 979-277-2868, cell

South Texas Cutting Horse Association (ACHA)
Brehnam, TX
Linda Lane, Secretary, 979-830-0287, home; 979-277-2868, cell

South West Texas Cutting Horse Association (ACHA)
Bell County Expo, Belton, TX
Mary Cervenka, Secretary, 512-218-1391
Email: mgcutter15@earthlink.net


DONKEY & MULE ORGANIZATIONS:

Gulf Coast Donkey & Mule Association
Website: www.gcdma.org/

Texas Draft Horse & Mule Association
Website: www.tdhma.org
FACEBOOK

DRESSAGE ORGANIZATIONS:



Alamo Dressage Association (USDF Region 9)
Website: www.alamodressage.org



Austin Dressage Unlimited
Website: www.austindressageunlimited.net



Arkansas Dressage Society (USDF Region 9)
Website: www.arkansasdressage.com



Brazos Association for
Classical Horsemanship (Dressage)
(BACH) (USDF Region 9)
Website: www.bachdressage.org



Central Texas Dressage Society (USDF Region 9)
Website: www.centexdressage.org



Dallas Dressage Club (USDF Region 9)
Website: www.dallasdressage.org



Fort Worth Dressage Club (USDF Region 9)
Website: fortworthdressage.com/index.html



Houston Dressage Society (USDF Region 9)
Website: www.houstondressagesociety.org

Northeast Texas Dressage Club
Website: www.netxdressageclub.com/home.html

Oklahoma Dressage Society (USDF Region 9)
Website: dressageoklahoma.org/
ODS CHAPTERS:
Great Plains Dressage Chapter
Website: gtgray.wix.com/greatplainsdressage
Green Country Chapter Dressage
Website: www.greencountrydressage.com
North Central Dressage Chapter
Website: Under Construction www.ncc.dressageoklahoma.org

Southern Eventing and
Dressage Association (USDF Region 9)
Website: www.sedariders.org

Tri State Dressage Society (USDF Region 9)
(Arkansas, Louisiana & Texas)
Website: www.tristatedressagesociety.com/

Western Dressage Federation of Texas
Affiliate of Western Dressage Association of America
Website: www.wdftx.org

ENDURANCE ORGANIZATIONS:

Texas Arabian Distance Riders Association (IAHA)
Eddie Spurgeon, Membership
Email: spurgeon@hotmail.com
Charles Bass, President
972-617-8233
Email: rebelcjb@aol.com
Website: www.tadra.org/

Texas Endurance Riders Association
President: Dianne Campbell
3401 Oakridge Blvd., Harker Heights, TX 76548
254-698-1965
Email: dcampbell1@hot.rr.com
Membership: Carol Kight, 1807 Envoy, Spicewood, TX 78669
Email: c_kight@hotmail.com
Website: www.texasenduranceriders.org/

EQUESTRIAN CLUBS (GENERAL RIDING)& COWBOY CHURCHS:

American Association of Sheriff's Posses & Riding Clubs
Mailing: P.O. Box 423, Kempner, TX 76539
Physical: 579 Jerry Walker Road, Bowie, TX 76230
(806)535-7462
Secretary: Peggy Franklin, 254-547-3683 or pfrnklin53@aol.com
Website:www.aasprc.net

Gulf Plains Cowboy Church of Kingsville , open shows held at the
Richard Borchard Fairground Arena (covered) in Robstown (20 minutes from
downtown CC) the first Sunday of every month.
Cowboy Fellowship of San Patricio County hold their events at
the San Patricio Fairground Arena in Sinton one weekend a month.
Brush Country Cowboy Church of Live Oak County, TX


Baylor Riding Association
Baylor University, Waco, TX
Contact: Anissa Collier, Anissa_Collier@baylor.edu or
Amy Mettke, Amy_Mettke@baylor.edu
Website

Cedar Hill Saddle Club
Midlothian, TX
Facebook

Country Folks Saddle Club
Georgetown, Texas
Email: cfsc.us@gmail.com
Website: www.cfsc.us

Denton RoundUp Club
Denton, Texas
Website

East Texas Horse Show Association
Barrels, poles, roping, halter, english, western pleasure, etc.
Fun for the whole family!
Website: www.ethsa.com/

Gulf Coast Women's Equine Association
Contact: GCWEA@yahoo.com
Facebook Page

Gulf Plains Cowboy Church
3322 N. CR 1036, Kingsville, TX 78363
361-701-2674 or gulfplainscowboychurch@yahoo.com
WEBSITE

Horsin' Around in Texas Riding Club
Contact: Mendy Allison, 817-239-3156
FACEBOOK

Hunt County Horseman's Association
Contact: Angie Middleton, amiddle1999@hotmail.com
Shows held at
Hopkins County Civic Center, Sulphur Springs, TX
Website: www.huntcountyhorse.com

Keller Saddle Club
P.O. Box 94, Keller, Texas 76244
Email: Kellersaddleclub@gmail.com
Website: kellersaddleclub.com

Lampasas Riding Club
Contact: Ann Wyatt, 6877 E HWY 190, Lampasas, Tx 76550
940-453-8084
Email: annwyatt@thewyattranch.com
Website: www.lampasasridingclub.com

Lewisville Saddle Club
Lewisville, Texas
Website

Lubbock Saddle Club
Website

Magnolia Community Horse Club
President: Hurshel Haley, 281-259-7008
Email: hdhranch@sbcglobal.net
Magnolia Community Horse Club Arena
31245 Friendship Lane (Magnolia Industrial Park Rd.),
Magnolia, TX 77355
Website: www.magnoliahorseclub.org

North Texas Backyard Horse Competitions
Facebook
For more information: Txschevy@gmail.com
or call Elizabeth, 817-240-7619
Website: NTBHC

Piney Woods Horse Show Association
Marshall City Arena in Marshall, Texas
For Information: contactl@www.pineywoods.com
Website

Red River Horse Club
412 CountyRoad 4621, Trenton, TX 75490
903-640-3861
Email: lgk@zuluinternet.com
www.redriverhorseclubrrhc.org

Rusty Spur Riding Club (NARC)
Johnson Countty, TX
Website

Sam Houston Forest Equestrian Association
Marilyn Kinney
15348 Jody Lane, Conroe, TX 77303-3920
Email: walkingk@aol.com
Judith Hackney, Membership
21319 Fones Road, Tomball, Texas 77375-5830
Email: jhackney@hughes.net
Website: www.shfea.org

Six Shooters Riding Club
Hutchins, Texas
FACEBOOK

Southern Texas Playday Association
Located in Friendswood, Texas
Between Houston & Galveston
Director: Marietta B., 281-369-2375
Email: playday@pdq.net
Website: southerntexasplayday

Texas Lost Pines Riding Club
Central Texas
Website: www.tlprc.org
FACEBOOK

Tip Top Riding Club (NARC)
Facebook
Website: tiptopridingclub.com

Tyler Saddle Club
P. O. Box 9969, Tyler, TX 75711
Website: www.tylersaddleclub.com

Weatherford Comancheros Riding Club
Website: weatherfordcomancherosridingclub.com


EVENTING (CROSS COUNTRY):

Central Texas Eventing Association (Area V)
Website: www.cteventing.org/

Greater Houston Combined Training Association (Area V)
Website: GHCTA
GHCTA on FacebookK

North Texas Eventing Association (Area V)
Website: www.nteventing.net/

The Oklahoma Eventers (Combined Training) (Area V)
Website: www.okeventers.us/home.html


4-H CLUBS:

For 4-H Club Information "Across America"

General Information for 4-H Youth Program in Texas Click Here!

To find a 4-H Club in Your County, Texas Click Here!

Brush Poppers 4-H Horse Club - Bastrop County
Dot Files
298 Jenkins Rd, Cedar Creek, TX 78612
512-303-6417
Email: filesarabians@yahoo.com

Montgomery County 4-H Horsemanship Club
Facebook

FRIESIAN BREEDERS:

South Central Friesian Horse Association
Linda Dorsett, Treasurer
Icon Ranch
801B Windmill Lane, Athens, Texas 75751
Email: gran1lin2@aol.com
Website: www.southcentralfriesianhorseassociation.com

GAITED HORSES:

Original Lone Star
Gaited Pleasure Horse Association, Inc.
Website: www.lspha.com

HORSE CLUBS AND COUNCILS:

Montgomery Community Horse Club & Arena
Website

Red River Horse Club
Website: www.redriverhorseclub.org/

Greater Houston Horse Council
is now the Texas State Horse Council
Website: www.ghhc.com

Horseman's Association of Texoma (HAT)
903-449-9122
E-mail: info@hat-texoma.org
Website: www.hat-texoma.org

Hunt County Horseman's Association
Website: www.huntcountyhorse.com

Kansas State Horse Council
Website: www.kansashorsecouncil.com

  Oklahoma Industry Horse Council
Website: www.oklahomahorseindustrycouncil.com/

Texas State Horse Council
Website

HUNTER JUMPER ORGANIZATIONS:

Central Texas Hunter & Jumper Association
Website: www.cthja.com

Dallas Hunter Jumper Scholarship Circuit, Inc.
Website: www.dallashunterjumperscholarship.org

Greater Houston Hunter & Jumper Association
Email: harper1k@wt.net
Website: www.ghhja.org

Gulf Coast Horse Show Association (Hunter & Jumper)
Website: Anyone know if thie club is still vital?

Louisiana Hunter Jumper Association
Website: www.lhja.net

MidSouth Hunter Jumper (H/J Schooling Shows)
Website: www.midsouthhja.com

North Texas Hunter Jumper Club
Website: www.nthjc.com

San Jacinto (Hunter Jumper) Horse Show Association
Website: www.sjhsa.org/

South Texas Hunter Jumper Association
Contact: Ashleigh Tate, 713-301-2427 or
ashleigh.tate@gmail.com
or Karen Martin, 281-932-2271
Website

Texas Hunter/Jumper Association
Website: www.thja.org

Texas Schooling Show Association
hunter/jumper schooling shows in the Austin area
Website: www.tssaaustin.com


MINIATURE HORSE ORGANIZATIONS:

Alamo Miniature Harness Club
Group events: Gail Gavit, ggavit@earthlink.net
Website: AMHC

Central Texas Miniature Horse Club
Email:ctxmhc@gmail.com
CTMHC

Eastern Texas Miniature Horse Club
Website: ETMHC

Greater Houston Miniature Horse Club
Website: www.ghmhc.com

Southwestern Miniature Horse Club
Website: www.swmini.com/

MISSOURI FOX TROTTING HORSE ORGANIZATIONS:

Missouri Fox Trotting Horse Association Region 3
(Arizona, New Mexico, Oklahoma, Texas)
Director: Jerrod Freeman
Email: jerrodfreeman@gmail.com
 Website: MFTHBA

MORAB ORGANIZATIONS:

Texas Morab Club
????

MORGAN HORSE ORGANIZATIONS:

Morgan Horse Club of Texas
Website: www.morganhorsecluboftexas.org

Heart of Texas Morgan Horse Club
Website: hotmhc.com

MUSTANG ORGANIZATIONS:

North American Mustang Association and Registry
Ellen Nelson
Email: namarmustangs@yahoo.com
972-289-9344

NATIONAL SHOW HORSE ORGANIZATIONS:

Texas National Show Horse Association
No information at this time

NATURAL HORSEMANSHIP ASSOCIATIONS:

Natural Horsemanship Association of Texas
Website: Look for us on FACEBOOK


PAINT HORSE (APHA) ORGANIZATIONS:

Ark-La-Tex Paint Horse Club
Website: arklatexphc.com

Central Texas Paint Horse Club
Website: www.ctphc.com

Cross Timbers Paint Horse Club
Website: www.crosstimbersphc.com

Gulf Coast Paint Horse Club
Website: www.gcphc.com

Louisiana Paint Horse Club
(no information)

North East Texas Paint Horse Club
Website: www.netphc.com
214-924-1245
Email: khansen@netphc.com

Permian Basin Paint Horse Club
www.pbphc.com

South Texas Paint Horse Club
Website: www.southtexaspainthorseclub.com
Membership: Cathy Sasser, 830-407-4593
Email: sasserpainthorses@yahoo.com

Texas Paint Horse Club
Website: texaspainthorseclub.com

PALOMINO HORSE ORGANIZATIONS:

Alamo Palomino Exhibitors Association
No longer active

Houston Area Palomino Exhibitors
No longer active

Texas Palomino Exhibitors Association
Website: www.tpea.net

PASO FINO HORSE ORGANIZATIONS:

Southwestern Paso Fino Horse Association
Paul Crooks, Treasurer
Phone: 940-395-2556
Email: pcrooks@puritanlife.com
Website: www.swpfha.org/

PERUVIAN HORSE ORGANIZATIONS:

Camino Real Peruvian Horse Club
8232 McCarver Lane, Bryan, TX 77808-4187
Email: alice@vin.com
Website: www.caminorealperuvian.com

Peruvian Pasos Horse Breeders & Owners Club
Dr. Deborah McCormick
1301 Ahern Creek Drive, Spring Branch, TX 78070
830-980-8453
Email: thomasm@gvtc.com

Sooner State Peruvian Paso Horse Club
Lucho Dapelo, President
4820 FM 51 N, Weatherford, TX 76085
817-596-4472
Email: fenixfarm@aol.com

Southwest Peruvian Horse Club
Website: www.southwestperuvianhorseclub.com

PINTO HORSE ORGANIZATIONS:

South Texas Pinto
Email contact: STPShowSec@yahoo.com
www.southtexaspinto.com/


POLO AND POLOCROSS ORGANIZATIONS:

American Polocrosse Association -
APA Website: www.americanpolocrosse.org
Central Zone
(TX, OK, LA, MS, GA, AR, KS, MI, MN, IL
& parts of NE, ND, SD, KY, TN)

Alamo Polocrosse Club
Castroville, TX
Contact: Anna Whorton, 830-275-0066
Email: annawhorton@gmail.com

Camp Stewart Polocrosse
Hunt, TX
Jeepers Ragsdale, 830-238-4670

Conroe Polocrosse
Houston, TX
Rodney Anderson, 281-252-3271
Email: rodnerson@yahoo.com

Country Club Polocrosse
Dallas, TX
Erin Smoyer, 972-880-1956
Email: epmurphy@hotmail.com

Hill County Polocrosse
Cypress Mill, TX
Amy Keith, 830-825-3606
Email: akeith7@gmail.com

Houston Polocrosse
Houston, TX
Bernadean Britt, 281-352-7616
Email: woodhavenf@aol.com

Kenada Polocrosse
Waller, TX
Amy Strunk, 936-372-5981
Email: amyadams@tmo.blackberry.net

Lone Star Polocrosse
Austin, TX
Prissy Rumel, 512-856-2839
Email: prissyr@hotmail.com

North Texas Polocrosse
Dallas, TX
Thunder Johnson, 903-429-3053
Email: tbilljohnson@hotmail.com

Pit Crew Polocrosse
Georgetown, Texas
Tina Hutcherson
512-740-4531
Email: poloponyth@gmail.com

Southfork Polocrosse
Dallas, TX
Bernie Uechtritz, 972-235-5872
Email: bu@horsetv.com

Sundance Polocrosse
Rio Meina, TX
Carolina Livi, 210-382-0246
Email: sundancepx@gmail.com

The Horse Lot Polocrosse
New Waverly, TX
Nick Cheesman, 832-693-5094
Email: nick@thehorselot.com

Waldemar Polocrosse
Hunt, TX
Liz Pohl, 830-238-3169
Email: lizpohl@hotmail.com

PONY OF THE AMERICAS:



Texas Pony of the Americas
www.texaspoa.com

PONY CLUBS:

See Texas/Oklahoma area U.S. Pony Clubs USPC

FOUNDATION QUARTER HORSE ORGANIZATIONS:

Oklahoma Foundation Quarter Horse Registry
www.okfqhr.com/index.php

Texas Foundation Quarter Horse Club
(Club may have folded - do you have any info?)
Website: broken link

QUARTER HORSE (AQHA) ORGANIZATIONS:

Alamo Quarterhorse Breeders Association
Website: AQHBA

Big Country Quarter Horse Association
FACEBOOK
Website: ???

Capitol Area Quarter Horse Association, Inc.
Website: CAQHA

Central Texas Quarter Horse Association
(Do you have info about this club?)
Website: broken link

Greater Houston Quarter Horse Association
Website: www.ghqha.com

Guadalupe Valley Quarter Horse Breeders Association
Not Active?

Mid-Tex Quarter Horse Association
Website: www.mtqha.org

Panhandle Golden Spread Quarter Horse Associaiton
Amarillo, Texas
Website: www.pgsqha.com

Remuda Quarter Horse Associaiton
West Texas Area
Website: RQHA

Texas Amateur Quarter Horse Association
c/o Eleise Blake
P.O. Box 267, Whitesboro, TX 76273
903-267-4915
Email: info@TAQHA.com
Website: www.taqha.com



Texas Quarter Horse Association
800-945-6157 or 512-458-5202
Website: TQHA


QUARTER PONY ORGANIZATIONS:

Quarter Pony Association and the
International Quarter Pony Association
931-623-3173
Website: www.quarterponyassociation.com
International Website: quarterponyassociation.com/IQPA.htm


RACE HORSE ORGANIZATIONS:

Texas Racing Fillies
Anna Mary Thomas, President
Meets 3rd Wednesday of each month
in the Jockey Club @ Sam Houston Race Park,
7575 Sam Houston Parkway, Houston, TX
281-447-1553

REINED COW HORSE

Panhandle Reined Cow Horse Association
Website: panhandlecowhorse.com

REINING HORSE ORGANIZATIONS:

Heart of Texas Reining Horse Association
Website: www.hotrha.com

Louisiana Reining Horse Association
Website: www.thelrha.com

Oklahoma Reining Horse Association
Website: www.okrha.com

South Texas Reining Horse Association
Website: www.strha.com


Southwest Reining Horse Association
Website: www.swrha.com/

Texas Reining Horse Association
Website: www.trhaonline.com

West Texas Reining Horse Association
Website: www.wtrha.com

ROCKY MOUNTAIN HORSES:



Lone Star Rocky Club
Website: LSRC

RODEO CLUB:

Texas Amateur Rodeo Association
512.868.000, Fax 512.864.0033
Email: john@rodeotexas.org
Website: www.rodeotexas.org

SADDLE HORSE ORGANIZATIONS:

Louisiana Saddle Horse Association
Website: www.lasha.org/home.html

American Saddle Horse Breeders of Texas
Website: www.texassaddlebreds.com

North Texas American Saddle Horse Associaton
Website: www.ntasha.org

San Antonio Saddle Horse Association
mbeasom@sashatx
Website: www.sashatx.org


SPANISH BARB ORGANIZATIONS:

Spanish Barb Breeders Association
Judith Smith
5615 Morningside, Box 203, Houston, TX 77005
713- 661-4164


SPORT HORSE AND WARMBLOOD ORGANIZATIONS:

American Warmblood Registry
P.O. Box 197 Carter, MT 59420
Phone: 406-734-5499; Fax: 775-667-0516
Email: amerwarmblood@aol.com
Website: www.americanwarmblood.com

American Warmblood Association
2 Buffalo Run Road, Center Ridge, AR 72027
501-893-2777; fax: 501-893-2779
Email: aws@americanwarmblood.org
Website: www.americanwarmblood.org

STOCK HORSE ORGANIZATIONS:

Northeastern Oklahoma Stock Horse Association
25445 Aspen Circle, Broken Arrow, OK 74014
918-251-5788
Website: www.neosha.com

Stock Horse Association of Texas
3301 North 3rd Street, Abilene, TX 79603
Phone: 325-672-6242; Fax: 325-672-6206
Email: info@stockhorsetexas.org
Website: www.stockhorsetexas.org/

TEAM PENNING AND ROPING ORGANIZATIONS:

U.S. Team Roping Championships
P.O. Box 1198, Stephenville, TX 76401
254-968-0002
Website: USTRC


THOROUGHBRED ORGANIZATIONS:

The Paddock Foundation
Non-profit organization concerned with
second career TB
Supporting rescue, retirement, rehabilitation,
retraining & rehoming
Website: Paddock Foundation

Texas Thoroughbred Association
Mary Ruyle, Executive Director
4009 Banister Lane, Suite 230,
Austin, TX 78704
512- 458-6133
Fax: 512-453-5919
Email to: maryr@texasthoroughbred.com
Website: www.texasthoroughbred.com

TRAILRIDERS ORGANIZATIONS:

Alamo Kountry Kickers Trailriding Club
FACEBOOK
Email: alamocountrykickers@live.com
P.O. Box 790635, San Antonio, TX 78279
Website: www.alamokountrykickers.com

Cross Timbers Equestrian Trails Association
Website: www.cteta.org

Dallas-Fort Worth Trail Riders Association
Facebook

North American Trail Ride Conference, Region 4
Arkansas, Louisiana, Oklahoma & Texas
Website: www.natrc4.org

North Texas Range Riders (Trail Ride Association)
Contact: Toni Perez, 817-657-2305 or
toniperez@att.net
Website

Texas Arabian Distance Riders Association (NATRA, AERC)
Website has not been updated since 2014
Website: www.tadra.org

Texas Equestrian Trail Riders Association
3715 River Bend Lane, Waco, TX 76705
Email: cyndi@mysmgp.com
Website: tetra.memberlodge.org/

Texas Trail Challenge Club
Website

Texas Trail Riding Group
Website
TTRG Chat
Facebook
Email: texastrailridinggroup@yahoo.com

WALKING AND RACKING HORSE ORGANIZATIONS:

Southwest Walking Horse Breeders Association
www.swhba.net

WELSH PONY AND COB ORGANIZATIONS:

Gulf Coast Welsh Pony Association of Texas
Robin Nowak, P.O. Box 426, Wallis, TX 77485
(979) 478-7191
E-mail: robinn77485@yahoo.com
Facebook

Red River Welsh Pony Association
Janice Early, 330 County Road 1573, Linden, TX 75563
(903) 756-9959
E-mail: lazyjearly@aol.com

AMERICAN VAULTING ASSOCIATION
REGION IV, TEXAS CLUBS:

Gold Star Pacesetters
Frank Pace, coach
10321 Cr 1020, Burleson, TX 76028
817-295-5968
Email: fpace@flash.net
Website: GSP

Lone Star Vaulters
Website: LSV
Rosie Brown, coach
4004 September Song Dr.,
Manchaca, TX 78652
512-282-9232
Email: Sept.SongStables@att.net
Website: www.SeptemberSongStables.com

Texas Hill Country Vaulters
????

VorTex Vaulters
Kimberly Pritchett, Thomas Pritchett, coaches
6320 Sundance Circle, Joshua, TX 76058
817-247-7926
Email: vortexvaulters@yahoo.com
Facebook




---



TM: Texas Horseman's Directory
and the design of a horsehead
with the state flag of Texas,
is a registered trademark
or service mark of the
State of Texas, 2000.
Renewed 2010.


Last Page Update: 19 AUGUST, 2017


---
Texas Horseman's Directory Home Page
National Breed Registries
Equestrian Portraits