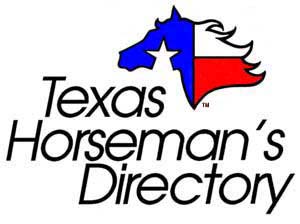 National Show
& Competition Organizations
This information about horse show
and competitive organizations is
posted on the web for FREE!

This list includes special national shows and
national competitive and breed organizations.
The following information is verified as closely as possible
and is updated frequently. If you have new information:
a change of address, officers, contact name,
telephone number, website, email address, etc.
to be added to this list please notify the
Texas Horseman's Directory,
P. O. Box 625, Cypress, TX 77410 or
call: 281-373-9304 or email to: directory@texhorseman.com.

---
BREED ORGANIZATIONS

SPORT OR DISCIPLINE:
BARRELS & PLAYDAYS - CARRIAGE DRIVING
COMFORMATION, HALTER & STOCK HORSE ASSOCIATIONS - CUTTING
DRILL TEAMS - DRESSAGE - ENDURANCE
EVENTING (CROSS COUNTRY) - HUNTER/JUMPER
NATURAL HORSEMANSHIP - OLYMPIC DISCIPLINES
PARA-EQUESTRIAN - PONY CLUBS (USPC)
POLO & POLOCROSSE - REINING
RIDING CLUBS & COWBOY CHURCHS
RODEO - SPECIAL SHOWS - TEAM PENNING & ROPING
TRAILRIDING - VAULTING
WORKING EQUITATION

EDUCATIONAL OR SERVICE GROUP:
4-H CLUBS - HORSE CLUBS & COUNCILS



---
BARREL RACE ORGANIZATIONS:

National Barrel Horse Association
Membership Questions: 706-722-7223
Show Questions: 706-823-3728
Website: www.nbha.com/

NBHA Texas State Districts Information

CARRIAGE DRIVING:

Carriage Association of America
Email: info@caaonline.com
Website: www.caaonline.com

American Driving Society
E-mail: info@americandrivingsociety.org
Website: www.americandrivingsociety.org

CONFORMATION, HALTER &
STOCK HORSE BREED ASSOCIATIONS:




World Conformation Horse Association
Website: www.conformationhorse.com
682-312-5356
Email: info@conformationhorse.com

American Stock Horse Association
Website: www.americanstockhorse.org

CUTTING HORSE ASSOCIATIONS:

American Cutting Horse Association
P. O. Box 2443, Brenham, Texas 77834
Phone: 979-836-3370; Fax: 979-251-9971
Email: achacutting@aol.com
Website: www.achacutting.org




National Cutting Horse Association
260 Bailey Ave., Fort Worth, TX 76107
817-244-6188; Fax: 817-244-2015
Website: www.nchacutting.com


DRILL TEAM:

United States Drill Team Association
Website: useda.homestead.com/index.html

DRESSAGE


United States Dressage Federation (USDF)
4051 Iron Works Parkway, Lexington, KY 40511
859-971-2277; Fax: 895-971-7722
Email: usdressage@usdf.org
Website: www.usdf.org

USDF, Region 9 Director
E-mail: guessdrsg@aol.com
Website: www.usdfregion9.org

Western Dressage Association™ of America
11875 Delbert Road, Parker, CO 80138
Website: westerndressageassociation.org


ENDURANCE

American Endurance Ride Conference
530-823-2260; Toll Free Number: 866-271-AERC
Fax: 530-823-7805
Email: aerc@foothill.net
Website: www.aerc.org

EVENTING


United States Eventing Association (USEA)
525 Old Waterford Road NW, Leesburg, VA 20176
703-779-0440; Fax: 703-779-0550
Email: info@useventing.com
Website: www.useventing.com

USEA, Area V
(Texas, Oklahoma, Arkansas, & Louisiana [Western Half])
Website: http://www.area5eventing.com/
Area Council Chairperson: Catherine Texter Baker
ctbatlanta@aol.com
P.O. Box 436, Atlanta, TX 75551
(903) 824-7905


USEA University and College
Eventing Programs
For more information see
Youth Associations

HUNTER-JUMPER




United States Hunter Jumper Association (USHJA)
Administrative Offices:
3870 Cigar Lane, Lexington, KY 40511
859-225-6700; Fax: 859-258-9033
Email: lkmangan@ushja.org
Website: www.ushja.org

International Hunter Futurity
1-800-852-1162; 859-879-3600; Fax: 859-879-3608
Email: inthf1@Alltel.net
website: www.inthf.org/

Super Series Group
• Texas Green Hunter Super Stake Series
• Texas Hunter Breeding Super Stakes
• Texas Hunter Sire Program
785 Jeter Road, Argyle, Texas 76226
Enrollment: Terri Irrer, 313-310-2106 or tfidance@aol.com
Website: www.superseriesgroup.com

OLYMPIC DISCIPLINES:



=

United States Equestrian Federation (USEF)
becomes US Equestrian
The Official Federation of
American Equestrian Sports since 1917
4047 Iron Works Parkway, Lexington, KY 40511-8493
859-258-2472; Fax: 859-231-6662
Website: www.usef.org/




United States Equestrian Team Foundation
1040 Pottersville Road, Box 355,
Gladstone, NJ 07934
908-234-1251; Fax: 908-234-0670
Web Site: www.uset.org

United States Modern Pentathalon Association
Website: www.teamusa.org/USA-Modern-Pentathlon.aspx


PARA-EQUESTRIAN




United States Para-Equestrian Association
3940 Verde Vista Drive, Thousand Oaks, CA 91360
Email: wheeler966@aol.com
Website: uspea.org




United States Driving for the Disabled
32450 S. Wright Rd., Molalla,? OR? 97038
Ph: 503-550-9384
Offices: usdfd.org@gmail.com
Website: www.USDFD.org


REINING

National Reining Horse Association
3000 NW 10th Street, Oklahoma City, OK 73107-5302
405-946-7400
Email: webmaster@nrha.com
Website: www.nrha.com



USA Reining
USEF Recognized Affiliate
13181 US Highway 177, Byars, OK 74831
Office: 580-759-2400; Fax: 580-759-3999
Email: info@usareining.us
Website: usareining.us



LIVESTOCK SHOWS,
RODEOS & RODEO EVENTS:

Fort Worth Stock Show & Rodeo
www.fwssr.com

Houston Livestock Show & Rodeo
Website: www.hlsr.com/

Pasadena Livestock Show & Rodeo
Website: www.pasadenarodeo.com

San Antonio Livestock Show
Website: www.sarodeo.com




National Reined Cow Horse Association
Website: NRCHA



Professional Rodeo Cowboy Association
Website: prorodeo.org/



SPECIAL SHOWS:




National Reining Breeders Classic (NRBC)
13181 US Hwy 177, Byars, OK 74831
580-759-3939
Website: www.nrbc.com




Pin Oak Charity Horse Show Association
2501 South Mason Rd. Suite 410, Katy, TX 77450
Website: www.pinoak.org

All American Quarter Horse Congress
Executive Director: 740-943-2346, extension 126
E-mail: SMyers@oqha.com
Website: www.oqha.com/aaqhc

POLO, SPORT ORGANIZATIONS:




American Polocrosse Association
Email: info@americanpolocrosse.org
Website: FACEBOOK

YOUTH ASSOCIATIONS:




North American Junior and
Young Riders Championship (NAJYRA)
Dressage, Eventing, Reining and Show Jumping
Website: www.youngriders.org/

Interscholastic Equestrian Association
For student riders in Grades 6-12
Website: www.rideiea.org

Interscholastic Horse Show Association
Founded on the principle that any
college student should be able to
participate in horse shows regardless
of his or her
financial status or riding level.
Website: www.ihsainc.com




National Collegiate Equestrian Association
Website: www.varsityequestrian.com

USEA University and College
Eventing Programs
Participating Programs in Texas:
Texas A&M University
College Station, TX
Website: www.tamueventing.com

Texas Christian University
Website: Womens Equestrian




United States Pony Clubs, Inc.
4071 Iron Works Pike, Lexington, KY 40511
606-254-PONY (7669); Fax: 606-233-4652
Email: memberservices@ponyclub.org
Website: www.ponyclub.org
(See Cimarron, Red River, and Rio Grande Regional Club Listings
under Texas Area Pony Clubs)

RIDING CLUBS:

National Association of
Riding Clubs & Sheriff's Posses (NARCP)
Website: www.narcsp.org/

National Snaffle Bit Association
Website: nsba.com/

TRAIL RIDE ASSOCIATIONS:



North American Trail Ride Conference
P.O. Box 969, Beatrice, NE 68310
303-688-1677
Email: natrc@natrc.org
Website: www.natrc.org
NATRC Region 4
(Texas, Oklahoma, Louisiana, & Arkansas)
Website: NATRC Region 4
FACEBOOK

TROTTING ASSOCIATIONS:

United States Trotting Association
Phone: 877-800-8782 or 614-224-2291
Fax: 844-229-1338
Email: memberservices@ustrotting.com
Website: USTA

International Miniature Trotting & Pacing Association
(254) 853-2806; FAX: (254) 853-3744
Email: info@imtpa.com
Website: www.imtpa.com/

VAULTING ASSOCIATIONS:

American Vaulting Association
254-853-2806; FAX: (254) 853-3744
Email: info@imtpa.com
Website: www.americanvaulting.org

WORKING EQUITATION
ASSOCIATIONS:



Working Equitation International Association in USA
Website: www.weiausa.com
FACEBOOK-TEXAS
---
Texas Horseman's Directory Home Page
Texas Horseman's Directory Listings Online
Educational & Service Organizations
Show & Clinic Schedule
National Breed Registries
Texas State & Local Clubs & Organizations

LAST UPDATE: 10 August, 2020