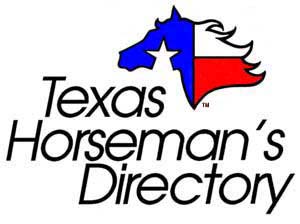 Equine Adoption,
Rescue & Retirement
Organizations*
This is a FREE listing.
If you have new information:
a change of address, officers, contact name,
telephone number, website, email address or
a new organization that is not listed,
please notify the
Texas Horseman's Directory,
P. O. Box 625, Cypress, TX 77410 or
call: 281-373-9304 or
email to: directory@texhorseman.com.


---
NATIONAL ORGANIZATIONS
---
Adopt-A-Horse
Bureau of Land Management,
Attn: Wild Horse & Burro Program
7450 Boston Blvd., Springfield, VA 22153
800-370-3936; Fax: 703-440-1656
Email: Inet_Adoption@blm.gov
Website: www.adoptahorse.blm.gov/
American Wild Horse Preservation Campaign
P. O. Box 1048, Hillsborough, NC 27278
Phone/Fax: 877-853-4696
Email: contact@wildhorsepreservation.org
Website: AWHPC
Bureau of Land Management National
Wild Horse & Burro Program
For more information on the
BLM's Wild Horse and Burro program,
please call: 866-4MUSTANGS
Website: www.blm.gov/
Bay State Equine Rescue, Inc.
415 Hunt Road, Oakham, MA 01068
508-882-3704
Website: www.baystaterescue.org/
Blue Ribbon Equine Rescue
501(c)(3) Non-Profit organization
Located at: Blue Ribbon Meadows Equestrian Center
2820 Old 96 Indian Trail,
Wagener SC 29164
Phone: 803-564-6414
A happy haven for abused, homeless, and retired horses
who might have perished without our intervention.
Email: Barbarajacobs62@gmail.com
Website

Chances Mini Horse Rescue - 501(c)(3)
President: Connie Parr, (586) 850-2343
Email: connielparr@yahoo.com
Website: www.chancesminihorserescue.org/
EQUUS Foundation, Inc.
Empowering Horse Charities of America
(AKA: Horse Charities of America)
168 Long Lots Road, Westport, CT 06880
203-259-1550
Email: equus@equusfoundation.org
Website: www.equusfoundation.org
Standardbred Retirement Foundation - 501(c)(3)
108F Old York Road, Hamilton, NJ 08620
609-324-1500; Fax: 609-324-1526
E-mail: jennifer@srfmail.com
Website: www.adoptahorse.org/
Thoroughbred Placement Resources
Off Track Thoroughbred
Kimberly Clark, President
Upper Marlboro, MD
Phone: 301-579-6898
Send donations to:
TPR, Inc.
13130 Molly Berry Road,
Upper Marlboro, MD 20772
Email: Trainer@GoodHorse.org
Website: www.goodhorse.org
Thoroughbred Retirement Foundation
P.O. Box 3387, Saratoga Springs, NY 12866
518-226-0028; Fax: 518-226-0699
Executive Director: Diana Pikulski
Public Relations: Bill Finley
Website: www.trfinc.org
Unwanted Horse Coalition
1616 H Street, NW, 7th Floor
Washington, DC 20006
202-296-4031; Fax: 202-296-1970
Website: www.unwantedhorsecoalition.org
---
TEXAS ORGANIZATIONS
---
Bluebonnet Equine Humane Society
Rescuing horses and other equine in Texas and Arkansas
501(c)(3) non-profit organization
P. O. Box 632, College Station, TX 77841-0632
Phone: 888-542-5163
Email for lastest rescues available for adoption:
BluebonnetFostering@googlegroups.com
Website: www.bluebonnetequine.org
Brighter Days Horse Refuge, Inc.
Jeannie Weatherholtz
682 Krause Rd., Pipe Creek, TX 78063
830-510-6607 or 830-460-7490
Email: brightedayshors@aol.com
Website: www.brighterdayshorserefuge.org/
Cleveland Amory Black Beauty Ranch
Mailing Address: 12526 County Road 3806
Murchison, Texas 75778
903-469-3811
Email: blackbeautyinfo@fundforanimals.org
Website: www.fundforanimals.org/blackbeauty/
Creekside Farm Miniature Horse
and Donkey Rescue
Mailing Address: P. O. Box 117801,
Carrollton, TX 75011
(972) 736 2364
Email: creeksidefarmhorserescue@yahoo.com
Website: ???
CrossFire Equine Rescue
501(c)(3) non-profit
P. O. Box 643, Bacliff, TX 77518
832-738-2218
Email: info@crossfirerescue.org
Website: www.crossfirerescue.org
Easy R Equine Rescue
501(c)(3) non-profit
Mailng Address: 8205 Quincy Avenue,
Lubbock, TX 79424
Angie Alspaugh, Executive Director
806-926-1403
Email: angiealspaugh@sptc.net
Website: www.easyrequinerescue.org
Equine Rehabilitation of Central Texas
Rehabilitating Rescued Horses
17000 Trails End Cv, Leander, TX 78641
Mailing Address: 12400 Wire Road, Leander, TX 78641
Lisa Rivers, President, 512-484-8480
Email: lisarivers302@gmail.com
Website: www.horseserct.org/
Habitat for Horses
501(c)(3) non-profit
Administrator: Jerry Finch
P. O. Box 213, Hitchcock, TX 77563
866-434-5737 or 409-935-0277; Fax: 409-515-0657
Email: office@habitatforhorses.org
Website: www.habitatforhorses.org/
Harmony Horseworks
Horse Rescue and Equine Sanctuary
13639 Elsie Road, Conifer CO 80433
(303) 816-0766
Website: www.harmonyhorseworks.com
Email: harmonyhorsewrks@aol.com or
barbara@harmonyhorseworks.com
HorseLink
Harnessing the Power of the
Horse - Human Connection
501(c)(3) nonprofit organization
Sanctuary located in Bastrop, Texas
for Retired Competition horses
512-360-8499
Website: thehorselink.org
FACEBOOK

Houston Humane Society {501(c)3}
14700 Almeda Road
P. O. Box 450528, Houston, TX 77245
713-433-6421
Website: www.houstonhumane.org
Houston SPCA {501(c)3}
900 Portway Drive, Houston, TX 77024
713-869-7722
To Report Animal Cruelty: 713-869-7722
Email: hspca@hspac.org
Website: www.houstonspca.org
LOPE - LoneStar Outreach to Place Ex-Racers
Providing Texas racehorses with opportunities
for new careers
1550 Deerfield Road, Dripping Springs, TX 78620
512-565-1824; Fax: 512-532-7848
Website: lopetx.org
Facebook
Morning Glory Appaloosas Rescue Ranch
Near Dallas, TX
972-523-0467 or 903-862-4063
Email: CherylFarrens@aol.com
Website: www.appaloosas.org
Mustang Heritage Foundation
501 (c)(3) public, charitable, nonprofit organization
dedicated to facilitating successful adoptions
for America's excess mustangs and burros
P. O. Box 703, Bertran, TX 78605
512-355-3225; Fax: 512-355-2737
Website: www.mustangheritagefoundation.org
The Pegasus Project, Inc.
501 (c)(3) public, charitable, nonprofit organization
We Give Horses Wings.
P. O. Box 26, Ben Whooler, TX 75754
903-469-3578
Emsil: allyson@mypegasusproject.org or mike@mypegasusproject.org
Website: www.mypegasusproject.org/home.html
FACEBOOK

Ranch Critters - Equine Rescue
Sponsoring/Adopting Unwanted Equine Animals
24520 Levy Lane, Hempstead, TX 77445
Directors: Charlie Renken & Gwen Murphy
Phone: 281-414-4102
Email: ranchcritters@yahoo.com
Website: www.ranchcritters.org
Facebook

Ranch Hand Rescue
Counseling Center & Animal Sanctuary
501 (c)(3) farm animal rescue center and sanctuary
8827 Hwy. 377 S., Argyle, TX 76226
Office: 940-464-0985; Cell: 817-907-5626
Website: Ranch Hand Rescue
FACEBOOK
Remember Me Rescue
Retired Race Horse Program
501 (c)(3) public, charitable, nonprofit organization
4100 Conveyor Drive, Burleson, TX 76028
Contact: Donna Keen, 817-689-1214
Email: remembermerescue@live.com
Website: The Remember Me Program
Richardson Equine Rescue Inc.
Lynne Richardson, CEO/President
P. O. Box 1028, Van Horn, TX 79855
Physical Location: 39959 FM 2017, Van Horn, TX
Phone: 855-704-9274
Website: www.richardsonequinerescue.com
Email: lynne@richardsonequinerescue.com



Serenity Horse Haven - 501(c)(3)
Physical Location: 3910 VZ Conty Road 2318,
Canton, Texas 75103-1257
Mail Address: P. O. Box 1257,
Canton, Texas 75103-1257
Phone: 903-287-0010
Email: info@SerenityHorse Haven.org
Visitors by appontment only:
Contact Ron Beaver, Ron@SerenityHorseHaven.org



Texas Adoptable Rescue Horses
FACEBOOK
A place to look for adoptable rescues


Texas Humane Legislative Network
We promote the humane treatment of animals
through legislation, education, and advocacy.
Website: www.thln.com


---
*RESCUE IS NOT JUST FOR HORSES
Littlegras Ranch, Inc.
a Sanctuary & Support for
Horsewomen & Their Horses
Comfort, Texas
Website: www.littlegrassranch.org
888-547-9393


---
Texas Horseman's Directory Home Page
Texas Horseman's Directory Listings Online
Texas Horseman's Directory FREE Online Listings
Show & Clinic Schedule
National Breed Registries
Texas State & Local Clubs & Organizations


LAST UPDATE: 20 June, 2017