CLICK ON PICTURE FOR BLOW UP OF DIAGRAM

Nothing finishes off the proper look of a hunter or a jumper or a dressage horse like a neatly braided mane. It takes time to do it right but it's worth the effort.

Materials needed:
Small natural sponge
Water bucket
Small mane comb (plastic or metal)
30+ lengths of yarn cut to 18"
"Pull through": a crochette hook or rug hooking tool work well
Pair of scissors

How to make the proper braid for a hunter or jumper:

The mane should be no longer than 4 inches to make a proper braid. If it is too long it needs to be pulled or carefully trimmed. Pulling gives a softer appearance and thins the hair. Thick hair is hard to braid. Once you have the proper length and thickness you can start to braid. First, wet the mane with water using a sponge. This makes the mane lie flat and smooth (Fig. 1) and makes it easier to hold onto.







(When removing braids wetting the mane again makes them come out easier and keeps the mane from becoming so curly.)

Divide the hair into 1/2" to 3/4" bunches to braid. Divide each bunch into three parts and start to braid (Fig.2).








About half way down the braid start to work in the yarn (approximately 18" long, folded in half), loop end up (Fig.3).







When you reach the end of the braid tie the yarn in a knot to hold it. Do this down the full length of the neck braiding every strand of mane.

When you have finished this it is time to pull the yarn through to give the looped appearance that looks so neat. A smooth crochette hook or a rug hooking tool work well. Insert the hook on the opposite side of the mane at the base of the hair and reach down and hook the long ends of the yarn (Fig.4) and pull the yarn through (Fig.5).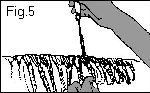 Do this all of the way down the mane.

The next step is very important in getting a smooth braid. Carefully pull the yarn through until the knot at the end of the braid is just through the base hair and align each braid. (Fig.6)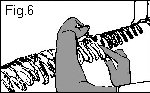 Next, tie off each braid. First tie a knot underneath the base of the hair, wrapping the yarn from the top of the hair to underneath. Then tie a knot on top (Fig.7)









The secret to a secure braid is not just a square knot, add an extra loop to each half of the knot to make it tight.(Fig.8)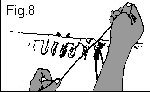 What makes a braid look smooth is to push up a little bump of braided mane above the knot making the rest of the braid lie flat.

The last step is to cut off the excess yarn (Fig.9).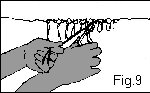 Don't forget to braid the forelock as one braid.
Now, you have a lovely braided mane and are ready for the show ring. (Fig.10)