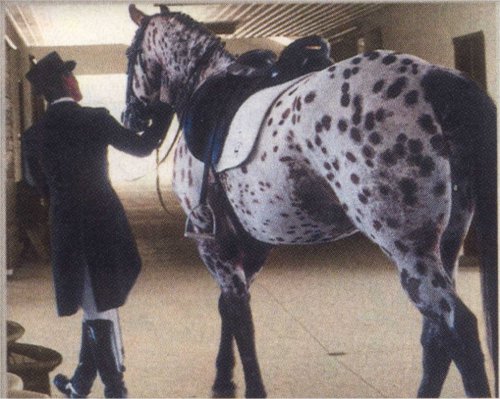 On Saturday, June 2 at the evening performance of the Houston Dressage Society Open Show and the Southwest Dressage Championships a fairy tale career came to an end. In the main arena of the Great Southwest Equestrian Center in Katy, Texas, Pam Fowler Grace and Pay-N-Go, the wonder Appaloosa, danced together in public for the last time.


Pay-N-Go and Pam have become a legend to millions of horse people across the country and the world. From that chance meeting in a cattle pen in Texas, Pam and "Mo", as he is affectionately called, have soared to the heights of the dressage world and into the glamour world of entertainment as they became a most memorable part of "Beatle" history.


Pay-N-Go was chosen (see full story)by Paul McCartney as the best example of an Appaloosa dressage horse to perform at the memorial service of his wife Linda in New York City. Linda was a great lover of Appaloosas and nothing else would do.


Pay-N-Go has been immortalized as a Breyer Horse an honor for only the best and brightest of the horse world. This past June, 2000, Pam and Pay-N-Go traveled to Lexington, KY, where the flashy leopard spot gelding was the guest of honor at BreyerFest 2000. Hundreds of eager little girls gathered 'round to have their Breyer Model autographed by Pam and to touch Pay-N-Go.


The Appaloosa has been like no other horse Pam has owned. Their bound is exceptional and Pay-N-Go's flare for the dramatic is innate. Saturday night we were all thrilled to see his impressive extended trot and rhythmic style as the pair gave us one last encore of their Jamaican beat freestyle.


He will be retired to Canaan Ranch owned by long time friend and supporter, Melanie Fewell Pai and he husband Lou. Together they are building a breeding and training operation devoted to the development of the best dressage horses in the country. Pay-N-Go will be in excellent company.

---